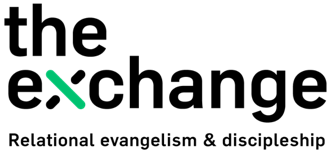 Learn How to Share your Faith!
The Exchange Seminar
September 22nd through 26th
Saturday 9am to 2:30pm
Lunch is provided at no additional cost.
Sunday Combined Adult Sunday School
Monday-Wednesday 6pm to 8pm
Dinner at 5:30pm for $5 per person
Childcare will not be provided
$15 per person
Click here to register!
The Exchange is devoted to training believers to share their faith through relational evangelism and discipleship.
An Exchange seminar is action packed with training sessions, role-playing, team activities, Q & A, and challenges from God's Word. The focus is the gospel – understanding it better and articulating it clearly. The Exchange addresses obstacles believers face in sharing their faith – overcoming   fear,   turning  conversations  to  the  gospel,   building   relationships with unbelievers, finding time for  gospel  living,  and  taking the next step.
What's unique about The Exchange?
We believe Relational Evangelism is an effective way to reach the world.
Believers learn to articulate the gospel clearly and with confidence.
Knowing that most people don't accept Christ the first time they hear the gospel, The Exchange also teaches believers how to use a four-lesson Bible study that introduces unbelievers to God and how they can have a life-changing relationship with Him.
The Exchange is a complete  Circle  of  Ministry – seeing people  saved, discipled and then trained to share their faith.
If you would like to check out their website, click here.