---
---
At First Baptist we believe in the power of music to communicate praise to God and the truth of His Word.  It is our goal to provide a wide variety of opportunities to use Christ-honoring music effectively. Our worship is blended and our service is aimed at glorifying God is all that we do.
Choir Ministry
---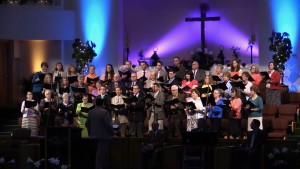 Our flagship music ministry at First Baptist Church is the Adult Choir. The choir performs a wide selection of music on Sunday mornings and participates in major events throughout the year. One of the largest church outreach events is the annual Christmas Musicale. Members of the choir ministry have a great opportunity to magnify Christ and build relationships with others at First Baptist who love music. This ministry runs from September through May. Church members 9th grade and up who have a love for music and a desire to minister with their musical abilities are encouraged to participate. The Choir meets Sundays at 4:30 p.m. for regular rehearsal. Participants commit to attendance at practice and morning worship performances.
Children's Choir Ministry
---
If your child likes to sing he/she will want to participate in our children's choir program. These choirs meet throughout the school year at 6 p.m. during the Sunday evening service. Our choirs emphasize a biblical character trait each month that is taught through a bible verse, a memorized song, and weekly lesson. The older children are encouraged to form the discipline of a daily devotional life. Ages 4 to the 2nd grade form the Rainbow Choir & grades 3 to 6 form the Young Ambassador Choir. They sing monthly in the Sunday evening services.
Special Music
---
At First Baptist, special music provides a variety of opportunities.  Special music takes the form of ensembles, small vocal groups, soloists and instrumentalists. These special music opportunities are a regular part of our Sunday morning worship, Sunday evening services and special programs.
Orchestra
---
Orchestra provides another way to praise God through the use of instruments. The orchestra accompanies congregational singing during morning services and provides special music.
Drama Ministry
---
An exciting group of our church is the Sunday drama ministry. They perform drama sketches and readings that relate to the message or theme of the day. It is another way to help illustrate what the Lord may want to teach us. Church members who have a love and talent for the dramatic arts are encouraged to be a part. This ministry meets for prayer and rehearsals on Wednesday evenings at 7 p.m. September through May.
Christmas Musicale
---
Our annual Christmas Musicale draws over 3,000 people each year.  This magnificent 3 night production of music, drama and lighting will prepare your heart for the true meaning of Christmas.  If you enjoy a large choir with spectacular sets, professional drama and over 50,000 lights, you will not want to miss this great event.  It has become a must see for people in our community as a part of their Christmas celebration.  To be a part of the Musicale choir ministry there is a commitment of church members from October to December with most rehearsals on Sunday afternoons beginning at 4 pm. Musicale drama is by audition and/or selection with regular rehearsals on Wednesdays and Sundays during the same period. Extra practices for both choir and drama are added as the performances draw close.
View Our 2018 LiveStream Performance On-Demand Here
Get Involved
---
If you have specific talents in music, drama, or play an instrument and would like to get involved in any of the First Baptist Church music ministries, please contact Pastor Dan Parker or visit the InfoCenter during our weekly church service.