Welcome to Upward Soccer!
Registration for this season has ended, but if you would still like your athlete to participate, give us a call at 440.458.5128 and ask to speak with Pastor Jon Casbohm.
Thanks for considering First Baptist Church of Elyria and Upward Sports to help develop your young athlete Spiritually, Athletically, Mentally and Socially. We are excited to offer Upward Soccer for the Summer of 2019. Below you will find information regarding the details of the league. If for any reason you have any additional questions we are here to help and would love to hear from you. Please do not hesitate to contact us here or give us a call at 440-458-5128.
What is Upward?
Upward Soccer is a ministry of First Baptist Church of Elyria that offers kids and families an opportunity to participate in an organized sports league in an atmosphere that is clean, safe and family friendly and where leaders and coaches are dedicated to helping develop young athletes spiritually, athletically, mentally and socially. Players and coaches will spend  time each week on the field developing their athletic skills as well as time off the field in huddle time where students will be encouraged to grow in their relationship with God. Upward is more than the average soccer league. Whether you are a member of our church or we will meet you for the first time, we are excited to have you take part in Upward Soccer here at First Baptist Church of Elyria!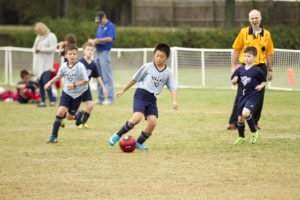 How do I sign up?
Once you are registered simply come to our Evaluation Night event on Wednesday May, 22nd. You may also find a registration brochure at the InfoCenter in the church lobby, or by stopping by the church office Tuesday-Friday from 8am-4pm. Paper registration forms can then be mailed with payment to the church office (11400 Lagrange Road, Elyria, Ohio 44035) or dropped off at the InfoCenter during any regularly scheduled church service. If you have any questions regarding registration please contact Pastor Jon Casbohm.
Who Can Play?
In order to deliver a first class experience we are offering Upward Soccer to athletes entering 3rd through 6th grade for the 2019-2020 school year. Boys and girls are welcome! We will also be offering summer programming for children K4-2nd grade on Wednesday evenings from 6:45 to 8:15pm. Please notice that students will be placed on teams based on what grade they will enter in the coming school year.
What is the cost?
Register by May 8, 2018 and pay just $60 per child for the season! If you register after May 9 up until the deadline of May 29th, registration will be just $65 per child for the season. We want as many kids to participate as possible. Those who may need financial assistance may contact Pastor Jon Casbohm and check availability of scholarships.
League Schedule 
Practice– All practices will be held on Wednesday Evenings. Students will be placed on a team and each team will be given a 60 minute practice time. Practices will begin at 7:00pm. The first practice is scheduled for June 5, 2018. There is no practice July  10 & 24.
Games– All games will be held on Saturday Mornings. Games will start as early as 8:00am and run until noon. All game play will be officiated and game day will include excitement for the whole family! The first game is scheduled for July 6, 2019 and the final game is August 17, 2019. August 24th will be a rain date if needed.
Wednesday, August 21, 2019 will be a special Awards night where we can recognize each athlete for their accomplishments this season.
A detailed practice and game schedule will be produced and available at the completion of league registration.
Evaluation Night- May 22 @ 7:00pm
Each athlete will be required to attend Evaluation Night on May 23rd beginning at 7:00pm. Evaluation night is a unique evening where young athletes will be introduced to our leaders and coaches, sized for game jerseys and participate in some basic soccer drills. This assessment will allow for us to as evenly as possible distribute talent among the teams and promote a competitive spirit. Parents will be able to meet our leadership team and ask any additional questions they might have about our church or league.
Open Field Night- May 29 @ 7:00pm
Join us May 29, 2019 for a special open field night! Parents join your athletes on the field or fellowship on the side lines as your athletes play. All Upward participants are welcome to be here for this informal practice time.
Sponsor an Athlete
We are looking for individuals and families to sponsor an athlete! As an outreach ministry of First Baptist Church we would love for as many children to participate as possible. You have the special opportunity to help us reach young athletes and their families with the gospel! Sponsor one or more athletes ($50 per child) by designating your gift with "Upward Sponsor" either online by clicking here or by giving  during any regularly scheduled church service. Your entire gift will be used to allow young athletes to participate in Upward Soccer at First Baptist Church of Elyria.
Need More Info?
If you are looking for more information or have specific needs or requests please do not hesitate to contact us. You may also email or call Pastor Jon Casbohm at 440.458.5128 and jcasbohm@firstbaptistelyria.org